| | |
| --- | --- |
| Sex | |
| Age | 2017 |
| Studbook | |
| Color | |
| Height | |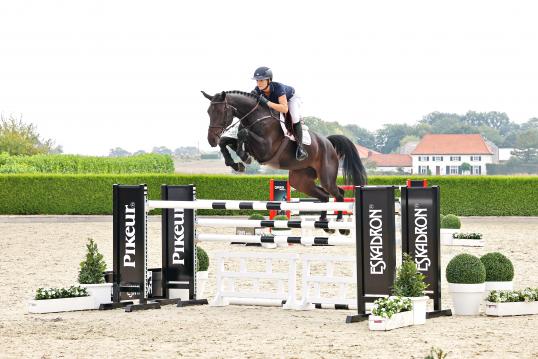 Pedigree
A dark-coated aristocrat.
This mare is not only stunning to look at, she also comes with the glamorous attributes of perfect rideability, a textbook attitude and outstanding jumping ability. She is a dynamic, powerful and light-footed Hanoverian-bred horse with incredible cadence: all the qualities a lady needs. Lady in Black also has a quiet temperament, goes perfectly on the bit and carries herself naturally. In fact, she's is as close to perfect as it gets. Her positive attitude is always in evidence when she jumps because however challenging the course, she never fails to astound people with her excellent technique, her big, careful jump and her formidable bascule. This mare would also make an excellent hunter class horse and a hunter video is available.
Lady in Black has drawn attention to herself for her consistently high scores in young horse classes as well as her consistent competition placings. She has won multiple 1.15m young horse classes with the dream score of 9.0 and almost 80% of her registered placings are either first or second. There are very few other horses in her age group to have performed so exceptionally and her success as a show jumper is guaranteed.
Lady in Black also happens to be descended from show jumping royalty. Her sire Diacontinus has obviously passed on his elasticity and unlimited scope to Lady in Black. During his own illustrious competition career the stallion won major classes. His track record as a sire is equally impressive, and his progeny all have scope, great paces and a modern conformation.
Contendro I is a prime example of the legendary Holstein performance horse bloodline 104a and an exceptional breeding stallion. His sire Contender is one of the world's best jumping horse producers. Contendro I's genes have shaped modern performance horse breeding and his offspring have collective competition earnings of almost one million euros.
Gloster, another stallion that competed up to advanced level show jumping, adds the last dram of talent to the ancestral line.
Successful relatives:
Diathletico (Alexander Uekermann- Finalteilnehmer Weltmeisterschaft Lanaken 2022), Diakato (Bernd Herbert), Dizzy Mizz Lizzy (Felix Koller- 7. Platz Finale Hetzel's Nachwuchschampionat), Don Diarado (Maurice Tebbel), Dicas (Margie Goldstein-Engle), fischerDante (Michael Jung/Emilia Löser), Diaron OLD (Patrick Stühlmeyer), Codex One (Christian Ahlmann), Queen Mary (Jan Wernke), Contendros (Andres Azcarraga)
Lady in Black is a regular glamorous participant in the winners' line-up.
Who can resist this aristocratic upgrade?