| | |
| --- | --- |
| Sex | |
| Age | 2014 |
| Studbook | |
| Color | |
| Height | |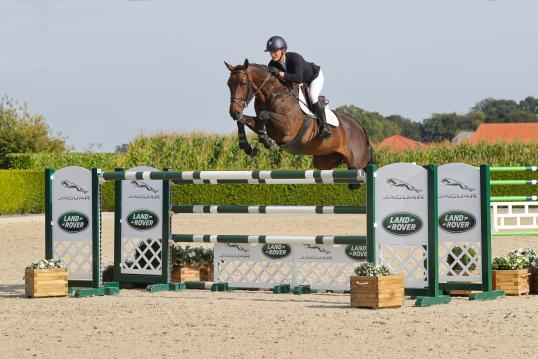 Pedigree
A horse that puts a smile on people's faces.
Smile is a modern, thoroughbred-type gelding that produced a lot of gasps from spectators at his video shoot. Even though the fences were at stand height, he cleared them all effortlessly. Smile's riders are also happy to confirm his unique talent, his fast responses and how every jump feels balanced and powerful, which is exactly what it looks like from the ground. This fantastic horse also has a very positive attitude and is completely nonplussed by the showground atmosphere. He has everything it takes to be a top competition horse.
Smile jumps a bit like Meredith Michaels Beerbaum's Shutterfly, medal winner at the German Championships, the European Championships and the World Equestrian Games, as well as winner of the Aachen Grand Prix. That's definitely a good omen!
At shows Smile has such incredible presence in the ring, especially over jumps, that he puts all the other contenders in the shade. And his competition results mean that he's often in the spotlight. The seven year old has high placings in young horse classes and regular classes up to 1.35m. Smile has also been placed in international youngster tour classes and is ready to go out on the adult international circuit.
The Scendix bloodline has given Smile some excellent performance genes, on top of the impressive lineages of Cornet Obolensky and Diamant de Semilly further back in the pedigree.
Scendix, Smile's sire, sealed his reputation as a sport horse by winning Sires of the World in Zangersheide twice and being placed in Calgary with his rider Eric Lamaze. Two of his offspring, Scendro and Scentender, are licensed in Germany. Scendix already has sons and daughters who are doing him proud competing in top-grade show jumping classes. His sire, Stakkato, was for many years the most successful jumping horse sire, and his dam's sire, Dinar, produced many top-class jumping horses. Scato van de Molenburg (Jennifer Waxman) and Mendini (Connor O'Regan) are two of Scendix's offspring competing at the highest level.
Smile's dam sire, Cornet Obolensky, dominated the sport and breeding world for over a decade. He and Marco Kutscher won numerous championship medals and first prizes in Grand Prix classes, and he's the most successful German show jumping horse of all time. His offspring's lifetime earnings are now over 11 million euros – need we say more?
Diamant de Semilly won a team gold medal at the World Equestrian Games with French rider Eric Levallios, as well as European Championship medals and Nations Cup and Grand Prix wins. Like his sire, Le Tôt de Semilly by Grand Veneur, Diamant de Semilly is one of France's most successful stallions. Without exception, he passes on all his positive qualities to his offspring.
Smile is guaranteed to make you happy.