| | |
| --- | --- |
| Sex | |
| Age | 2015 |
| Studbook | |
| Color | |
| Height | |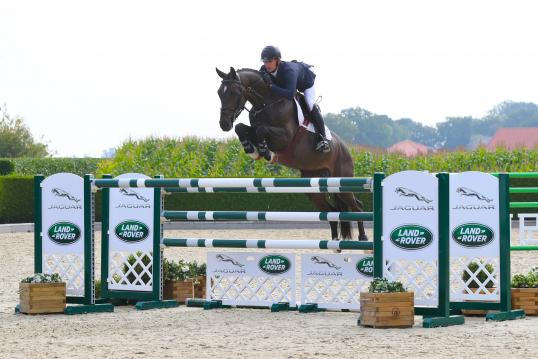 Pedigree
Freaks are people who are overenthusiastic about a certain thing.
In the case of Super Freak that thing is jumping.
Super Freak is all about superlatives: superlative scope, a superlative pedigree and a superlative competition record. He's a shooting star with limitless scope and lightning-fast reactions; as well as being a very careful and honest horse. Super Freak is a brave six year old Italian gelding that doesn't care how high the jumps are and confidently answers every question. His obvious jumping ability, coupled with his determination to do his very best for the rider, makes him a young horse with a very bright future ahead of him. All phases of his jump are energetic and powerful, yet he's also light-footed. The sky's the limit for Super Freak, who gives no indication of effort however high the jumps are, leaving both the rider and the onlookers asking themselves how high he can go.
This six year old gelding already has a few highlights in his competition career. As a four year old he collected many young horse class wins and placings. Last year he reached the final of the Italian Young Horse Championships in the five year old category after making headlines with his spectacular performances in the ring. Many top riders expressed an interest in him, but he secured his place in the Sport Horse Sales collection at those championships. Super Freak had 13 wins and several placings in young horse classes as a five year old. This year he has continued to make solid progress training in Goch, and some impressive clear rounds in 1.30m classes prove that he is now ready for bigger things.
All of Super Freak's ancestors are big names in the show jumping and breeding worlds.
He is another son of the most legendary jumping horse sire in the world. Cornet Obolensky is an unforgettable horse that had an exceptional show jumping career with Marco Kutscher, winning numerous Grand Prix classes and a gold medal at the European Championships. His offspring include countless title holders such as Cornado NRW and Comme il faut (Marcus Ehning), Clooney (Martin Fuchs), Colestus (Christian Kuku), Corree (Gregory Wathelet) as well as Tokyo 2021 horses Chilenksy (Koki Sato) and Cannavaro (Matias Albarracin).
Super Freak's dam Berlina FZ was Alberto Zorzi's international competition horse. She also produced Quality FZ, who is currently winning CSI5* Grand Prixs with Rodrigo Pessoa. The dam sire Berlin was Gerco Schröder's unforgettable international competition partner, winner of team gold at European Championships and the World Equestrian Games as well as many Grand Prix victories. Experts say that this grey stallion was one of the best horses in the world in the 2000s. Many of his offspring are competing internationally, including 2021 Olympics horse Berlux (Simon Delestre) and Caspar (Emanuele Gaudiano). Carneval (Cor de la Bryere x Farnese) is famous for passing on his excellent jumping genes to numerous offspring over many years.
A great investment for horse freaks who want to jump into the big time.