| | |
| --- | --- |
| Sex | |
| Age | 2013 |
| Studbook | |
| Color | |
| Height | |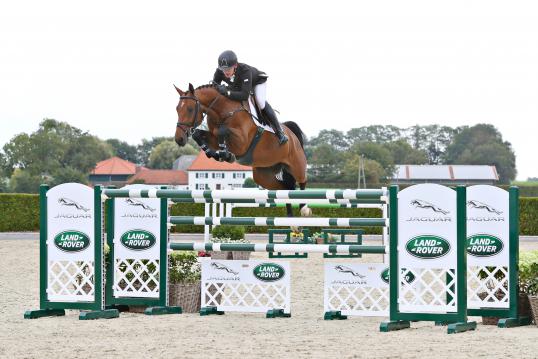 Pedigree
Great! Fantastic! Breathtaking!
These are all adjectives we could use to describe this horse's pedigree and qualities.
Awesome's ancestors all contributed purest performance blood to his pedigree and it's obvious to everyone that he's inherited many of their genes. Sire Diamant de Semilly won a team gold medal at the World Equestrian Games with French rider Eric Levallios, as well as European Championship medals and Nations Cup and Grand Prix wins. Like his sire, Le Tôt de Semilly by Grand Veneur, Diamant de Semilly is one of France's most successful stallions. Without exception he passes on all his positive qualities to his offspring, three of which competed at the Europeans in Aachen: Enriques Of The Lowlands (Manuel Fernandez Saro), Charly Brown (Emma Augier de Moussac) and Utamaro d´Ecaussines (Joe Clee). He has also produced a number of other top jumping horses such as Emerald (Harrie Smolders) Sunshine (Jos Verlooy) and Prunella d'Ariel (Paola Amibilia). Clarimo's genes unite the Capitol I and Caletto II bloodlines with the Wisma and Wodka dam lines. Both lines have produced many excellent jumping horses. Wodka by Lord sired licensed stallions Clearway, Conway I and II, Arturo and the 2009 German Show Jumping Derby winner with Thomas Kleis, Carassina.  Clarimo and Rolf-Göran Bengtsson always created a buzz whenever they cantered into the ring. They were placed over some of the biggest and most challenging courses in the world at events in Doha, Paris, s'Hertogenbosch, Hamburg, Valkenswaard, Lyon, Vienna, Rome, Cannes and Gothenburg, and they won Nations Cups for Sweden.  Clarimo's most famous progeny are Chardonnay (Max Kühner), Bjerglunds Cuba (Alexa Stais), Cynar VA (Jessica Springsteen) and GK Coco Chanel (Conor Swail).  His breeding stallion rating is a clear indication that he passes on his show jumping genes to his offspring.
Awesome is an athletically built gelding with first-rate jumping ability. All phases of his jump, his outstanding ability and his unique courage indicate that he can look forward to a great competition career. Other positive characteristics of this horse are an impressive hind leg action over jumps and absolute determination not to touch a pole.  He inherited his ridability and fighting spirit form his sire.
Despite only being six years of age, this gelding has an incredible 50 (!) placings. He's won 12 1.30m young horse classes with jaw-dropping scores of up to 9.3 and has competed successfully in 1.35m classes. He qualified for the DKB Bundeschampionat 2019 several times. Once there, he impressed the judges and immediately qualified for the final, a 1.35m class, where he was also placed.
In a nutshell: WOW!