| | |
| --- | --- |
| Sex | |
| Age | 2012 |
| Studbook | |
| Color | |
| Height | |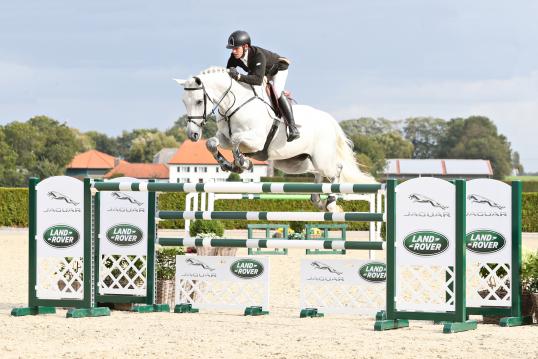 Pedigree
A big horse with colossal talent.
Giant is a magnificent grey gelding that has inherited many of the talents of his sire, Cornet Obolensky, and also bears a unique resemblance to him.
Cornet Obolensky is one of the most legendary jumping horse sires in the world. He enjoyed an acclaimed international career with Marco Kutscher, won a gold medal at the European Championships as well as numerous Grand Prixs and Nations Cups. During his jumping career he amassed competition winnings of almost EUR 800,000.  Among his progeny are numerous winners of national championships, world championships and international Grand Prix classes such as Cornet d'Amour (Daniel Deusser), Cornado NRW and Comme il faut (Marcus Ehning), Clooney (Martin Fuchs), Colestus (Christian Kuku), Corree (Gregory Wathalet), Carmen (Jens Baackmann) and Cornets Cristallo (Marco Kutscher). Like father, like son: Cornet Obolensky's sire, Clinton, has progeny with  collective winnings of almost 4 million euros, and Cornet's breeding index is 166 with a reliability of 97%. On the dam's side of the lineage is Polany, a fantastic advanced-level competition horse and stallion by legendary Westphalian sport horse producer Polydor. Further back in the pedigree is Pilot, the famous show jumping sire that still has a dominant influence on jumping horse breeding today.
This refined, athletic horse came to us from his breeder and we put him through a solid basic training programme and started him out at competitions, where he scored up to 8.8 in young horse classes. Giant is every rider's dream. He's a supple, dynamic and rhythmic mover with a massive jump. With this talent and ridability, it's impossible to guess where this horse's limits are - if he has any.
Giant now has high placings in 1.40m classes and is ready for big national and international tracks.
No goal is too big for this horse to achieve.