| | |
| --- | --- |
| Sex | |
| Age | 2012 |
| Studbook | |
| Color | |
| Height | |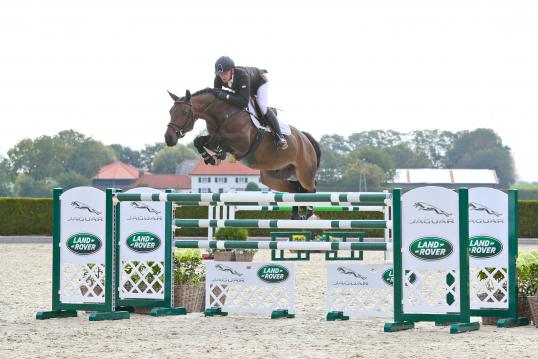 Pedigree
A special horse is always a combination of several positive attributes. Sugar Boy has them all.
This athletic jumping horse has notched up some impressive scores this year - his first competition season - including 1.30m young horse class wins with near perfect scores as high as 9.4 (!). His impressive way of jumping has also made him a talking point at shows, and he often brings home rosettes in regular 1.30m classes. He's ready to go and programmed to perform.
Sugar Boy also scores highly for his jumping qualities. He's got fast responses, an energetic and powerful take-off and the ideal body type for a modern jumping horse. He's forward-going and attentive with a great attitude in the ring. Compact in build, Sugar Boy is a talented and careful jumper with the heart of lion.
His pedigree combines some of the best show jumping genes around.
Contendro I is an exceptional stallion descended from the famous Holstein dam line 104a. His sire, Contender, is one of the world's best producers of jumping horses. As a sire he has shaped modern performance horse breeding, and the collective lifetime winnings of his progeny are approaching the one million mark. Probably the most famous Contender progeny is Codex One (Christian Ahlmann). Others include Holiday by Solitour (Carsten-Otto Nagel), Queen Mary (Jan Wernke), Corvin (Tim Rieskamp-Gödeking), Constantin B (Hans-Dieter Dreher), Cool Hand Luke (Markus Beerbaum), Hello Annie (Scott Brash), Conthendrix (Mary Looke) and Czardas (Karine Frederiks). Sugar Boy's dam, Bravo, also produced Caretano Z (Jos Lansink) and BB Caretana (Niklaus Schurtenberger). The dam sire Valentino also has a number of very successful competition horses among his offspring, including Vittorio (Sophie Hinners), Van Helsing (Flaminia Straumann/Denis Lynch) and Vitiki (Yuri Mansur).  Sugar Boy's pedigree is rounded off by Stakkato, the Hanover Horse Breeding Association's flagship stallion and the 'non plus ultra in performance horse breeding'.
All these desirable attributes make Sugar Boy a very attractive proposition.