| | |
| --- | --- |
| Sex | |
| Age | 2016 |
| Studbook | |
| Color | |
| Height | |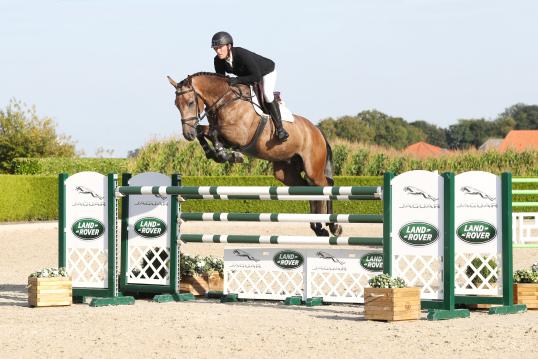 Pedigree
This horse's talent is no secret.
Secret is a very interesting youngster at the outset of his career. He's a sport horse with amazing presence thanks to a perfectly proportioned frame and a very elegant way of moving. Although still relatively inexperienced, the five year old always works with his rider and is focused over jumps. Secret has a lot of attributes that are desirable in a competition horse, such as scope, carefulness and confidence. A practical canter plus a sensational jump make Secret a pleasure to ride around jumping courses. He's a beautiful gelding who enthrals spectators with both his performance and his unusual colour.
Secret knows how to use his body and has proven it in youngster classes for his age group. He has already won 1.15m classes and been placed in 1.25m classes with scores in the range of 8.3 to 8.6.
This very interesting prospective show jumper has the perfect mix of bloodlines: Zirocco Blue x Acorado x Lord.
His sire, Zirocco Blue, is an exceptional show jumping stallion with the perfect attributes for a competition and breeding horse. Zirocco Blue's rare pedigree includes Mr. Blue, Voltaire, Le Tot de Semilly, Jalisco, Uriel, Ibrahim and Ultimate xx. His sire, Mr. Blue, had a great show jumping career with Bert Romp and his offspring include Plot Blue (Marcus Ehning). Zirocco Blue's dam Licorne des Forets was also an international competition horse. Zirocco Blue and Jur Vrieling had a great international career together, winning numerous Grand Prixs and a team silver at the European Championships. Some of the top horses sired by Zirocco Blue are 2021 European Championships horse Zilton (Michael Duffy), Glamour Girl (Henrik von Eckermann), Elysium (Hans-Dieter Dreher), Fliere Fluiter (Jack Ansems), El Rocco (Bart Bles) and Eddie Blue (Devin Ryan).
The dam sire, Acorado I, passes on both his amazing looks and his gigantic jump to his offspring. With an outstanding lineage including Acord II x Corrado I x Ramiro, he was definitely bred for sport.
Lord has produced an above-average number of top jumping horses that went on to have top careers in countries all over the world. In Germany his offspring that are registered as competition horses have won more than 4 million euros in prize money.
Secret's on the way to the top.
"Got a secret
Can you keep it?"