| | |
| --- | --- |
| Sex | |
| Age | 2015 |
| Studbook | |
| Color | |
| Height | |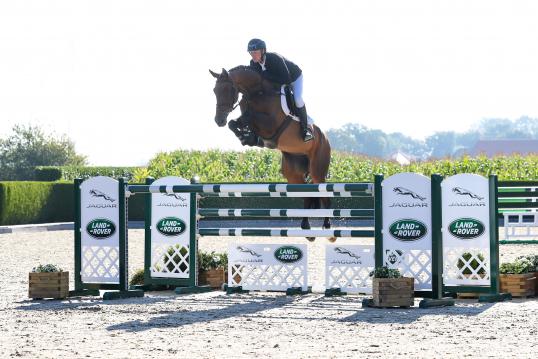 Pedigree
If you want to go to the Olympics you'll need a Million Dream.
Million Dream – not even the sky's the limit.
Sometimes a once-in-a-lifetime horse comes along that makes its mark on many generations. Million Dream is that horse. This mare has so much scope that every jump looks effortless.
She's a rare find and a magnificent example of a horse that has everything it takes to go right to the top. Million Dream has no weaknesses. Million Dream is incomparable. She is one of the dynamic and talented young show jumpers in this year's collection. This noble-blooded mare has a lovely big frame, long legs, great mental agility, a perfect disposition and, on top of that, she's a real easy ride. Million Dream has a special aura, a perfect jumping technique, feather-light hooves and a brilliant action. It makes no difference how high you build the jumps, she clears everything with ease.
Like most top international horses, Million Dream has a strong performance horse bloodline spanning several generations.
Her sire, Clarimo, is a leading Holstein breeding stallion of international repute. In his show jumping career with Rolf-Göran Bengtsson the stallion won and was placed in many CSI5* Grand Prixs. Clarimo's sire, Clearway, was Lars Bak Andersen's very talented international competition horse. Clarimo's pedigree unites the brilliant performance genes of Capitol I and Caletto II with the dam lines of Wisma and Wodka (the dam of Chica's Way and Casassina). Both have produced many excellent jumping horses over their broodmare careers. Clarimo's successful offspring include Chardonnay and Cielito Lindo (Max Kühner) as well as Cynar VA (Jessica Springsteen) and Be Aperle VA (Diarmuid Howley). 
Casquetto is a big athletic horse with an enormous jump and the second son of Casall to be licensed as a Holstein breeding stallion. Like his sire, Casall, Casquetto delivered an impressive performance at his stallion licensing test and he demonstrated his flair for jumping up through all the grades. Corrado I was one of the Holstein breeding region's flagship sires for both his breeding qualities and his competition career. He carried Franke Sloothaak to victory on many occasions, including the NRW Grand Prix in Aachen and the World Cup qualifier in Dortmund. His most famous offspring are Corradina (Carsten-Otto Nagel) and Clinton (Dirk Demeersman), as well as licensed stallions Corofino, Crawford and Coriano.
After producing two foals of her own, Million Dream launched her competition career this year in grand style. She has competed in selected youngster classes, already has her first placings and is ready for more.
"I close my eyes and I can see
The world that's waiting up for me…
…A million dreams is all it's gonna take
Oh a million dreams for the world we're gonna make".