| | |
| --- | --- |
| Sex | |
| Age | 2015 |
| Studbook | |
| Color | |
| Height | |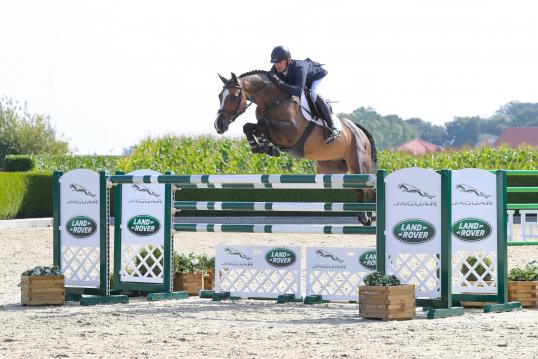 Pedigree
He's monumental.
This youngster's incredible talent can be attributed to the successful pairing of two outstanding performance horse gene pools. Genetic predisposition supported by a solid professional training concept and a fantastic attitude make this horse a genuine one of a kind. Good 4 U is undeniably a unique horse. In fact, he's capable of making hopes and dreams come true. Not only is he a beautiful animal with the perfect build, he also has a superb dynamic canter and unbeatable rideability. What's more, thanks to a textbook technique and a top attitude he confidently answers every question with immense ease.
Good 4 U has been stabled in Goch for over a year now, and during that time he has repeatedly demonstrated his exceptional qualities, as well as accumulating numerous competition wins and placings. His competition track record includes multiple wins in 1.25m young horse classes with scores as high as 8.8, as well as placings in regular 1.30m classes. Now ready to compete in international youngster tours, this future sport star has obviously inherited his sire Comme il faut's looks and jumping talent, and especially his impressive canter.
Comme il faut and his rider Marcus Ehning were a dream team. They completed the biggest courses in the world with such ease and joy that spectators were completely captivated. They won the Madrid World Cup and were victorious in many Grand Prix competitions. They notched up countless clear rounds for the German team in Nations Cup classes and were team silver medal winners at the European Show Jumping Championships. The stallion earned more than 1.6 million euros in competition winnings. Comme il faut's pedigree features several of the world's best breeding stallions. His sire, Cornet Obolensky, as well as Clinton, Corrado, Heartbreaker, Nimmerdor, Randel Z and Ramiro, weren't just top stallions, they also proved their quality and performance ability at international competitions. The mares in Comme il faut's lineage are equally impressive. His dam Ratina Z and grand dam Heurika Z were two of the best show jumping mares around in their day. Comme il faut's offspring, most of which take after the sire, are continuing the family tradition of excellence. They include Chao Lee (Katrin Eckermann), Cuma (Katharina Rhomberg), Checker (Christian Kukuk), Cape Coral (Francesca Cieriesi), Comme-Laude (Bart Bles) and Caramba (Richard Vogel).
The dam sire, Taloubet Z, also had a very impressive competition career, winning more than two million euros in prize money and scoring many Grand Prix victories with Christian Ahlmann. He was on the show jumping circuit for many years, which is why not many of his offspring are competing internationally. One of them is Take a Chance on Me Z, the horse that won the GCT Grand Prix in Paris with Christian Ahlmann.
Good 4 U's pedigree is augmented by the Holstein blood of Cachas, one of the Holstein Breeding Association's most successful sires and producer of international sport horses.
"What belongs together comes together". This horse will be 'Good 4 U'.