| | |
| --- | --- |
| Sex | |
| Age | 2015 |
| Studbook | |
| Color | |
| Height | |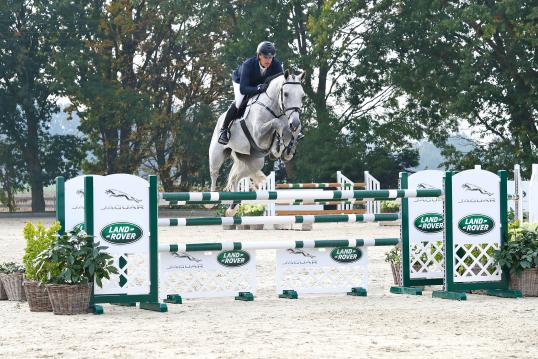 Pedigree
A highborn horse with a beautiful temperament.
Sandro Blanc is a dependable jumping partner with a careful and intelligent manner. He's right on track with his training and responsive to his rider's aids. He's also a good natured horse with a focused approach to jumping: careful and brave with excellent technique. In short: Sandro Blanc is a first-class ride with a brilliant temperament and attitude.
This five year old horse has already won many 1.05m youngster classes and been placed in 1.15m youngster classes. 70% of all his registered placings are in the top three; many with scores as high as 8.5. Thanks to his sweet temperament this grey horse is a pleasure to ride around every course. This won't change as he moves up the grades and his future riders can look forward to a very special partner.
The bloodline of Sandro Blanc's sire Sandro Boy produces healthy, tough and outstanding performance horses and, on the other side, the contributions of sport horse sires Legolas and Calato are no less valuable.
Sandro Boy accumulated lifetime competition winnings of more than EUR 1.2 million with Marcus Ehning. He won numerous Grand Prix classes (e.g. Lyon), as well as the World Cup final in Kuala Lumpur and was the most successful Nations Cup horse in 2007. In addition to having an illustrious competition career, Sandro Boy has an enormous jump, spectacular looks and a glowing reputation as a sire. Many of his offspring are licensed stallions or top international competition horses. His daughter Sabrina was also a Grand Prix winner with Marcus Ehning, and many of his other sons and daughters, such as Stone Cold Sober (Philip Houston), Sir Sandro BS (Steffen Eikenkötter), and Sagolda (Nicole Persson), are competing internationally.
Sandro Boy's dam Wiadora also produced G&C Lagran (Mark Bluman).
Premium stallion Legolas was sired by Lordanos out of a dam line 776 mare by Silvester x Capitano x Manometer xx. Not only does he unite the finest of jumping horse genes, which helped him to be a successful international competition horse, he also passes on his rideability to his offspring.
Calato is one of the best progeny of Capitol I, a stallion who has played an instrumental role in Holstein horse breeding. He was launched into the show jumping scene at the Bundeschampionate by the unforgettable Herbert Blöcker, who took him up the grades to the highest level of the sport. Successful horses from the same line include Cöster (Christian Ahlmann), Callistro (Janne-Frederike Meyer), and Clausen (Holger Wulschner).
A sympathetic horse whose portrait will be on display in the show jumping Hall of Fame one day.